The Launch Of Lanarkshire 53
Article from Trolley - May 1995 , The newsletter of the STG

On Saturday 1 April the Trust (Summerlee Heritage Trust now called Summerlee Museum) and the Transport Group very successfully launched Lanarkshire tramcar No 53. After many years of stop start restoration and countless launch dates for 53 the time had finally come to unleash 53 onto the public. Local MP Helen Liddle was chosen to be 'tape cutter' with Group members Bob Sutherland and Brian Quinn as Motorman and Conductor respectively.


April 1st - 1st Impressions
After a week of last minute preparations from floor painting to trolley head greasing and a lot of extra time being put in by many members, though Brian Quinn and Bobby Armstrong in particular, 53 was declared 'Ready for Launch'.
The great day dawned with fine drizzle, I climbed into my borrowed finery - mostly supplied courtesy of Brian Longworth - including quite the heaviest great-coat I've put on since demob from the R.A.F.
Last minute consultations with the Management Staff and with Conductor Brian began to reinforce the idea that all this was real, not some April 1st jape and I was being given the privilege of 'steering' the car through her debut!
As the rain had gone off and we had been asked to have the car at Hornock by 12:15, at 12:12 I rang the gong and notched up by two - nothing but nothing had prepared me for the sight that met my eyes - there seemed to be dozens of folk all pointing cameras in my direction (the thought crossed my mind that the victim of the firing squad must have a similar view!). We toddled up to Hornock Terminus for the first of many 'photo opportunities' and met up with Mrs Helen Liddle, M.P. who turned out to be quite charming and blessed with (the necessary) good sense of humour. We drifted down to the tape at the cottages and Carol Haddow made a speech in which credit was given to past and present members of the Summerlee staff and to the volunteers of the Transport Group. Mrs Liddle was then given the bluntest pair of scissors on the Summerlee or any other site and proceeded to chew through the tape. For the sake of the photographers, Mrs Liddle was invited to 'take control' and off we went all the way up to second notch. She was relieved, in more senses than one, before we reached the facing points and on the way back before the curve but I am certain she enjoyed the experience regretting only that her husband wasn't present - I fully expect to see her return fully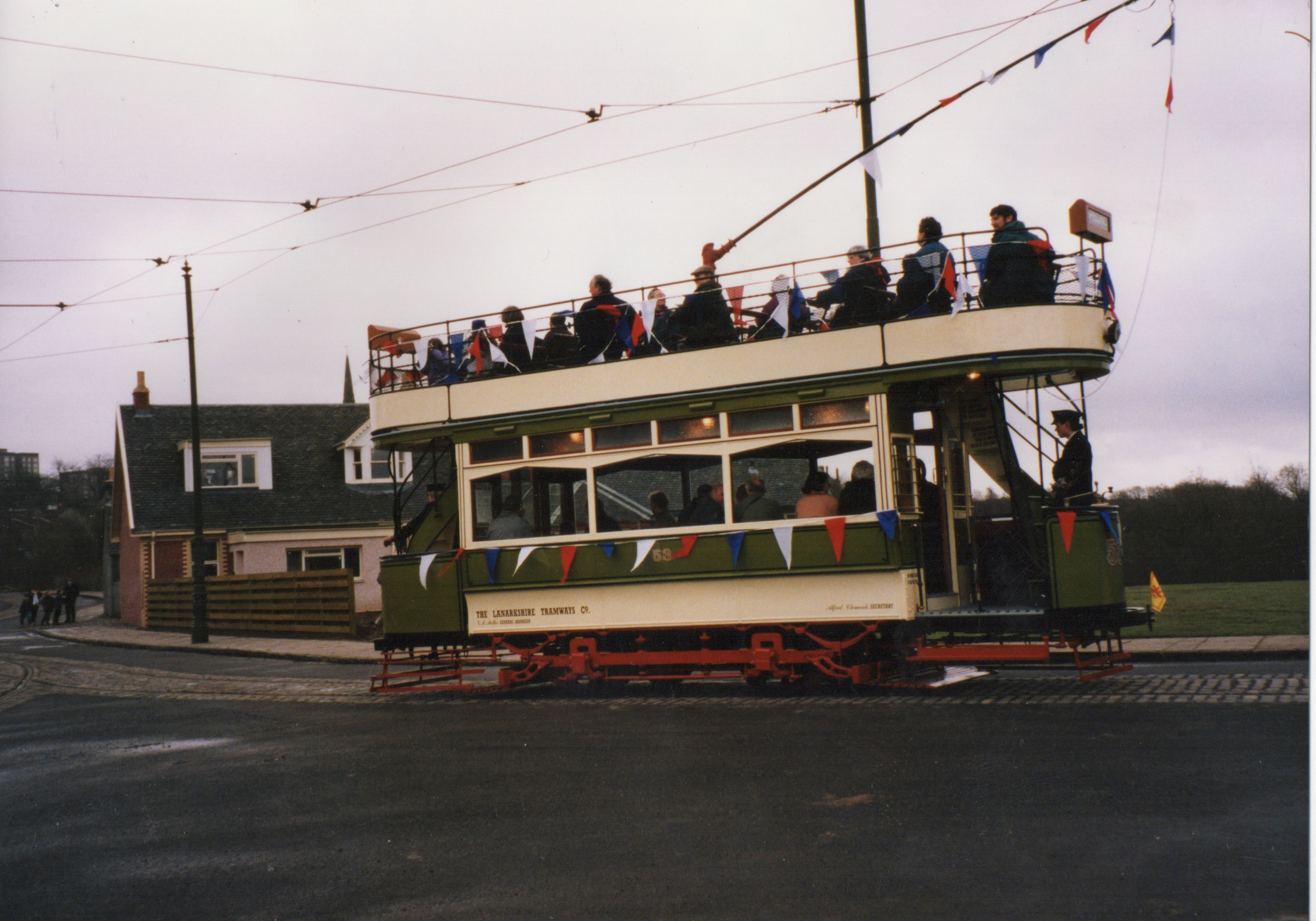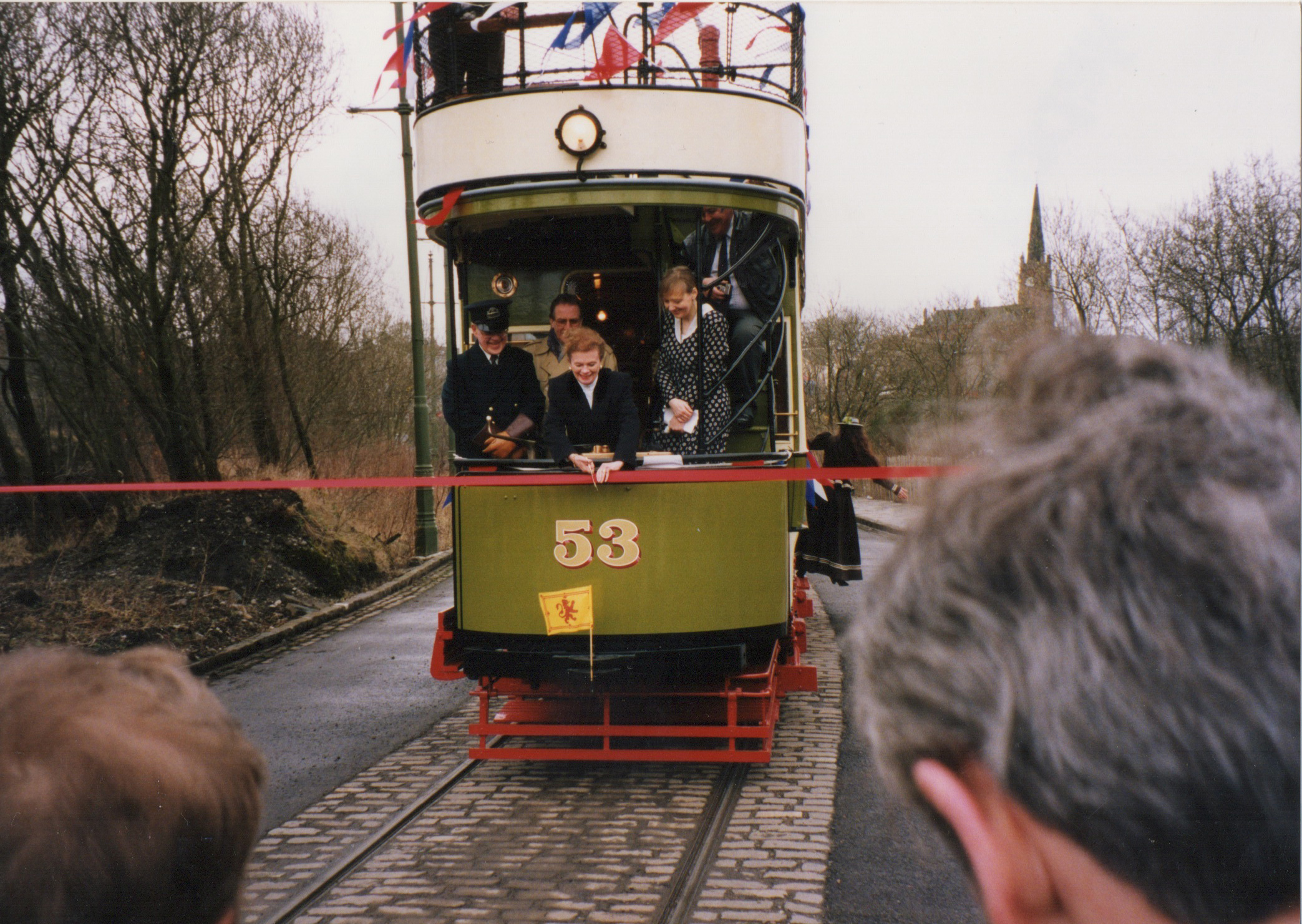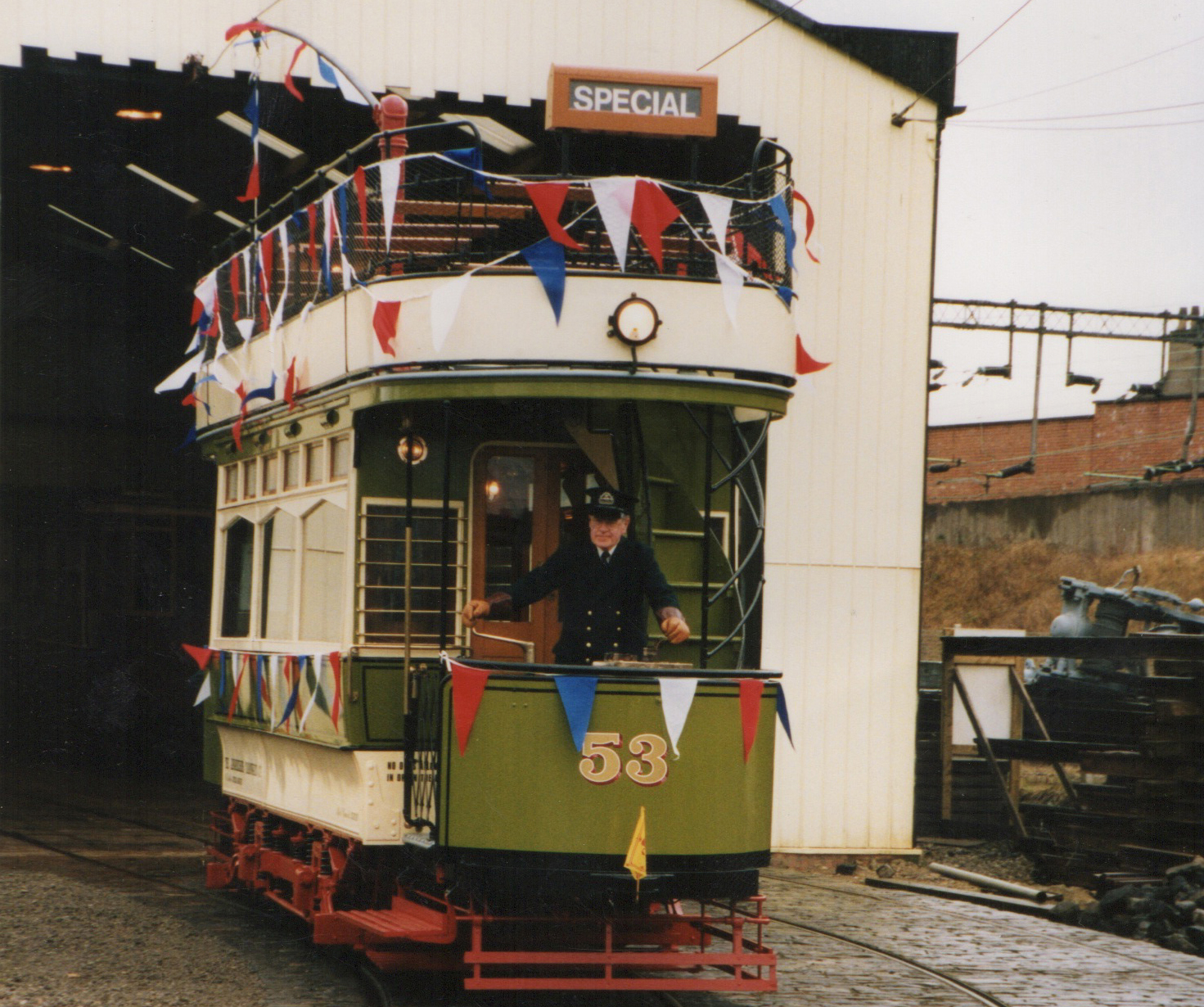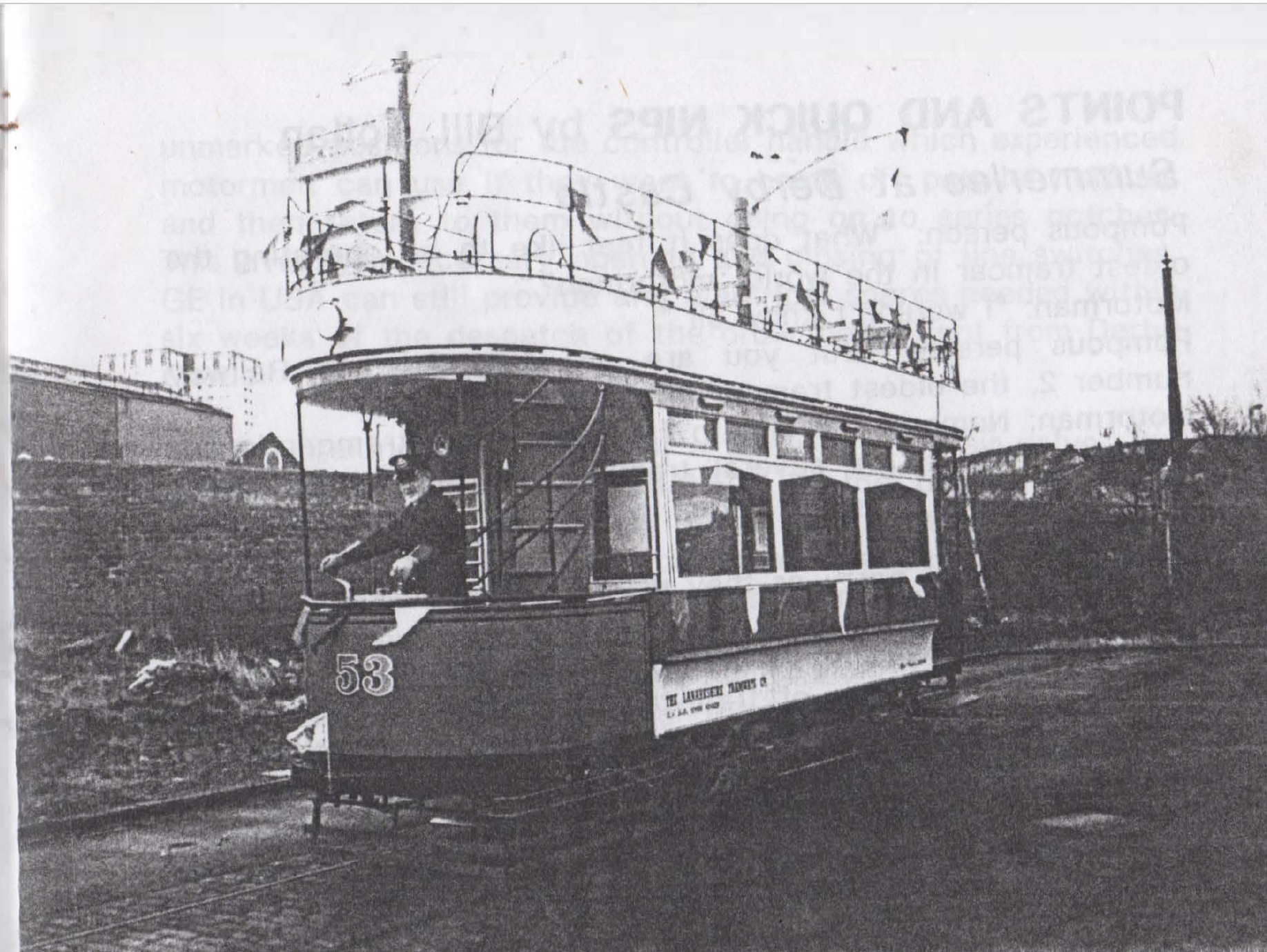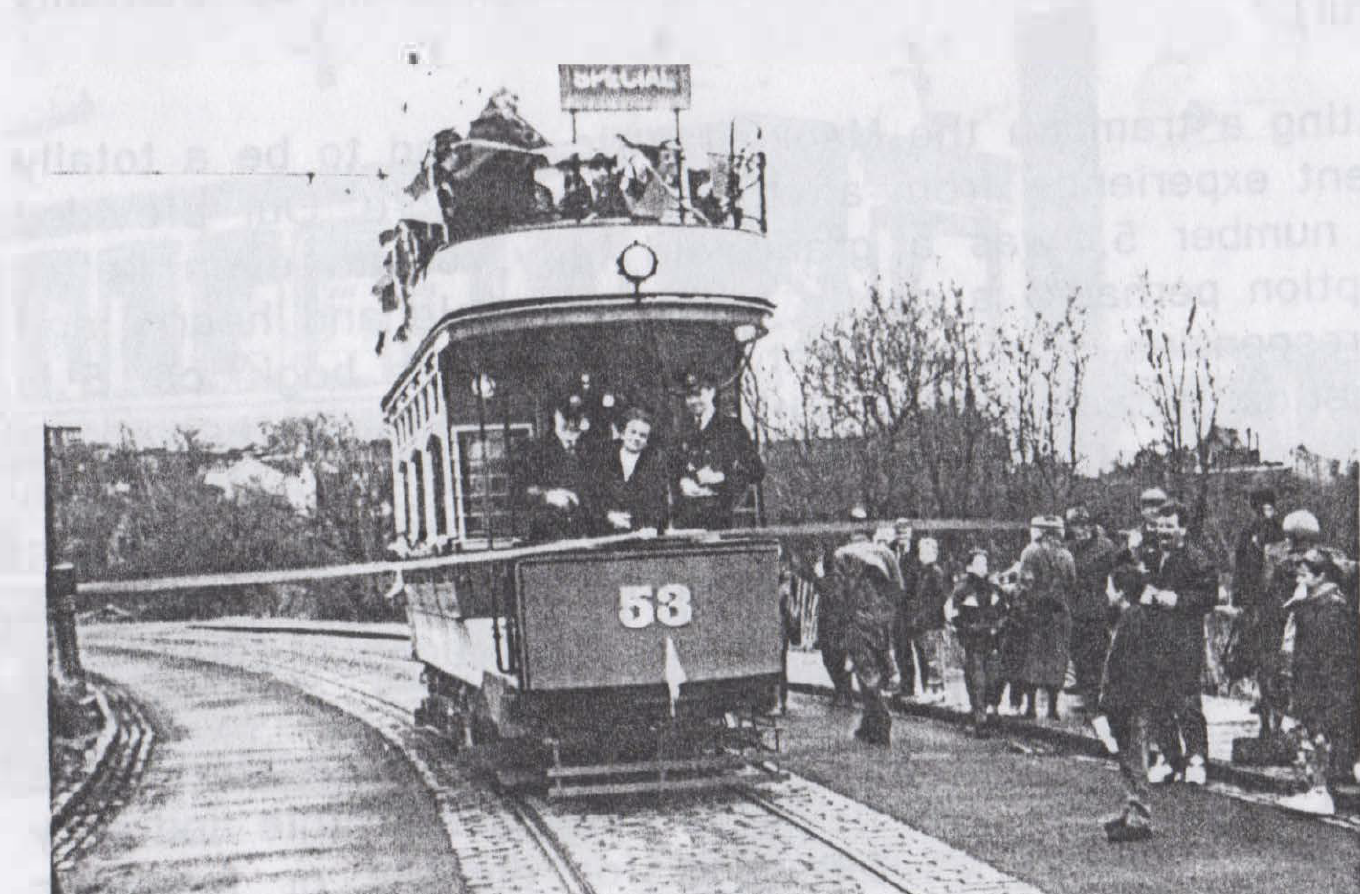 On the third run, the car was 'thrown open to the public' - Grief! All our carefully laid plans (they'll get off at your end . . on at mine .. you lower that step .. I'll pick up this one .. ) being strained under the avalanche that descended both stairs simultaneously to be met head on by another avalanche going the other way. On one occasion I bent over to pick up the step - I swear there's a footprint in between the shoulder blades of the coat already mentioned! However, it was all very good humoured and whilst turn-round, offloading and reloading time were quite appalling, at the same time it was a heck of a lot of fun. Seriously though, it seemed 'case proved' to me that you cannot have the car with a step up, gate in position and authority's back turned even if it is to 'swing the pole', but that some idiot will try to 'help themselves' and start trying to undo the gate with consequent risk to others flooding down the stair or out the saloon, and the step still UPI
Poor Brian, I prophetically warned him that 'you are going to be busy' before we started - apart from issuing tickets at 'photo opportunities he just didn't have time to crank the handle of his T.I.M. How he kept a journey time waybill, I don't know. I was relieved (again in more senses than one) by Mike Chalton at about 1515 or thereabouts, renewing my acquaintance with 53 on the depot fan in time to put her to bed. Brian had already shifted an enormous amount of muck off the floors and stairs with a brush although nobody could have blamed him if he had left it where it was.
No doubt there will be many 'post mortems' on the occasion but these are my immediate impressions of a most enjoyable day and a memory that will last for a very long time of the crowd at the depot with their cameras and their spontaneous applause. Many thanks to the Committee for the opportunity.